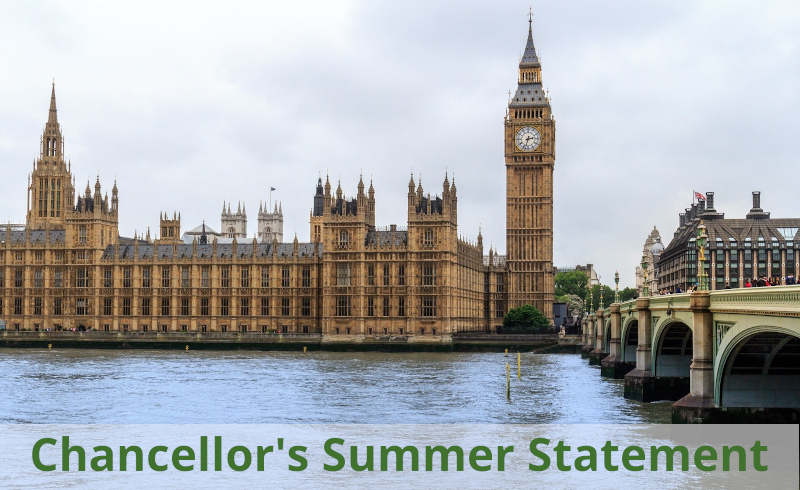 On Wednesday 8th July, Chancellor Rishi Sunak provided his economic plan in response to the COVID-19 pandemic. The Summer Statement has been introduced on this occasion to help the UK economy recover following recent events.
We have summarised below the main points from the statement:
Job Retention Bonus
For every furloughed employee that an employer retains until the end of January 2021, the government will provide a one-off payment of £1,000. The bonus scheme applies to workers earning over £520 per month on average between November and the beginning of 2021.
If the nine million employees who have been furloughed this year return to work under the scheme, it could cost the government up to £9 billion, to retain people in work. It is highly unlikely all will be taken back but it does provide an incentive to businesses to take this step.
Leisure and Hospitality
The Chancellor announced that from 15th July to January 2021, the rate of VAT for selected areas across hospitality, will reduce from 20% to 5%.
To also encourage spending in businesses across the sector he has offered the "Eat Out to Help Out" scheme offering 50% discount for every diner. The scheme will offer up to £10 discount when dining from Monday to Wednesday throughout August, covering the food bill and non-alcoholic drinks.
Residential Property
The housing market has been put on hold over the past six months due to the pandemic and to prevent this continuing Mr Sunak has introduced a Stamp Duty holiday. This increases the threshold for stamp duty on residential property in England and Northern Ireland from £125,000 to £500,000. The measure applies to house purchases taking place from 8th July 2020 to 31st March 2021 and it is expected that nine out of ten transactions would be tax-free, due to the this.
Although this is the case, the additional 3% stamp duty for individuals purchasing a second residential property will still apply throughout the period.
For existing house owners, the 'Green Homes Grant' will be available from September this year, meaning households could receive vouchers of up to £5,000 for home projects that increase the energy efficiency of their home in England.
For low income households the government will increase the voucher amount, up to £10,000.
Employment for Young Workers
The Chancellor has introduced a vast range of initiatives to encourage employees to take on new workers and specifically aiming at the younger generation, aged between 16 and 24. The 'Kickstart Scheme' includes a £2billion fund to pay for six-month work placements for 16 to 24 year olds who are currently on Universal Credit. Over the six-month period, he hopes that employees will provide the necessary training to allow the individuals a good start in employment.
The government is also offering employers a £1,000 grant per trainee aged between 16 and 24, £2,000 per apprentice aged under 25 and £1,500 per apprentice aged over 25.
Infrastructure and Decarbonisation
The government is providing grants of £1billion to public sector bodies to improve energy efficiency and also £50million towards a social house decarbonisation fund.