As financial planners, we do consider our own savings and financial circumstances, as well as those of our clients. One particular area that keeps coming up is that "millennials" (those born between 1981 and 1996) will be the generation with a larger savings burden when it comes to their retirement than any previous generation. This begs the question, are young people saving enough for their future?
It is, of course, understandably difficult to compare generations as circumstances are hugely different. For instance, house prices today are significantly higher than they were in the 1970s, even after an adjustment for inflation. Another point to consider is that millennials have endured the Financial Crisis of 2008 and the after effects of this, right at the time where they are starting out in their careers themselves. Undoubtedly this will have had a psychological effect when it comes to savings.
TopCashBack have undertaken a poll on those born between 1977 and 1995 regarding saving habits. A deposit for a house was fifth on the list of priorities, with an emergency fund being the number one priority when it comes to saving. Holidays and travelling also ranked highly.
This shows us that younger people are saving, but towards experiences and lifestyle over possessions perhaps financial priorities differ from previous generations.
Of course, a short-term emergency fund should always be retained in cash, providing some security against life's unknowns.
For retirement however, or other longer-term goals, we would discourage cash as a long-term strategy. Historically, cash struggles to keep pace with inflation, so over the long term those savings may be worth less in real terms. Millennials prefer to use cash than any other asset for their long term savings, as found by a report conducted by Bankrate.com. One reason for this could be distrust in the stock market, due to the 2008 financial crisis, as mentioned earlier.
Rather than criticise decisions like these, it would be more beneficial if people were educated on the benefits of the stock markets. This is backed up by a study from investment firms F&C and BMO, who concluded that to improve their financial knowledge, a quarter of millennials want help and education on investing.
There is no right or wrong way of saving and some people may simply be not comfortable with stock market fluctuations. However, the below graph shows the difference in performance of LIBOR (cash rate), inflation, reflect by CPI, FTSE 100 index and the S&P 500 index, on a total return basis. This is based on performance over 15 years.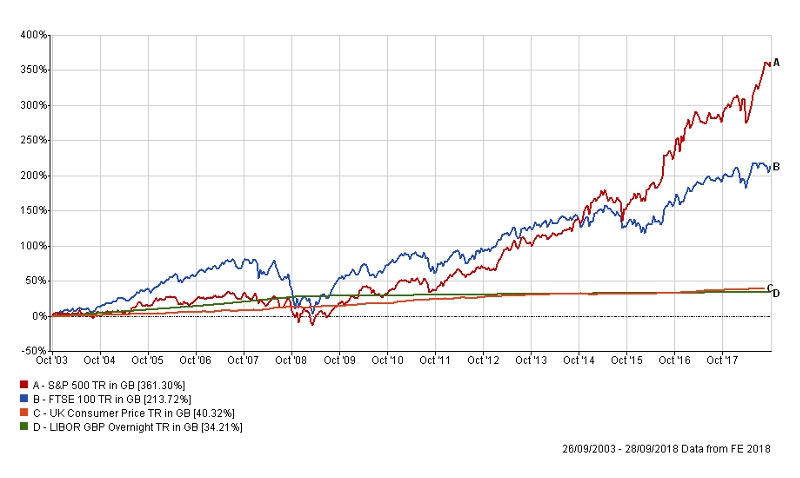 *Past performance is not a guide to future returns and there is a risk to loss of capital. The value of investments, and the income from them, are not guaranteed and can do down as well as up. If in any doubt please consult a financial professional.
Being a millennial myself, I often hear reasons why people haven't started saving, be it 'Christmas is coming up', or a holiday etc. When it comes to saving, now is the best time to start.
It is no secret than the usual demographic of people who seek financial advice are not millennials. The challenge is how to educate this generation and improve their financial knowledge. The government has tried over recent years to encourage young people to save, with autoenrollment coming in, and the release of Help to Buy and Lifetime ISAs, but this doesn't help increase knowledge.
So what can be done to help save more?
1. Put savings away at the start of the month, rather than the end. This way the amount saved is certain each month and is more likely to be adhered to. Don't over save at the start of the month and leave yourself short. Choose a realistic and affordable amount and stick to it . This will develop discipline when it comes to saving.
2. Shop around on household bills. Doing this can save hundreds each year.
3. Railcards are useful for 16-25s and the cost is often recouped the first couple of times they are used. For 26-30 year olds the government has trialled a 26-30 railcard and may be rolling this out nationally. Keep an eye out for this.
4. Don't be afraid to change savings accounts to chase the best rates. People often remain with the same bank out of habit/ease.
The above are just some helpful tips that can be used or passed on to young people you know who are in this position. Financial problems for people often go undiscussed, so even some small changes can make big differences. The aim should be to ensure long term financial security.